Pre-loved furniture finds new love through rental service
Sweden is one of the best countries in the world when it comes to recycling waste. At the same time, consumption is increasing, and more waste is produced. To recycle is, therefore, not enough. Instead, we need to reduce our consumption and minimize the amount of waste we produce.
To minimize recourse use, former Malmö University students Vaishnavi Srinivasan, Max Pangerl and Jed Manguera, co-founded Cohabit – a circular furniture rental service. The service is a social enterprise that prolongs the life of discarded but significant pieces of furniture while offering a sustainable, affordable, and flexible furnishing solution to students moving to the south of Sweden.
The idea was born when Vaishnavi came to Sweden and decided to furnish her apartment in six weeks, only with secondhand furnishers. A lot of work had to be put into it and she felt that there must be an easier way. That is when she got the idea of a circular furniture rental service, focusing primarily on international students.
Sweden is extremely sustainability oriented, and it occurred to me how strange it is that there is no rental alternative for household furnitures in Sweden. My teacher told me about the Leapfrogs scholarship, that gives Malmö University students the opportunity to explore and develop an idea during the summer. I decided to submit my idea about a circular rental service for leapfrogs and see what happens. I realized that I did not know how big the market was or how big the need was for a circular furniture rental service, so I applied for the scholarship hoping I would get a chance to explore it further.

Vaishnavi Srinivasan, co-founder of Cohabit
While waiting for the jury's decision Vaishnavi started to talk about the idea with her classmates in the master's programme, Leadership for Sustainability. Together with her classmates Jed and Max, she decided to explore it further as a school project.
The project got a lot of good feedback, and their classmates' feedback helped them develop their idea further. However, they had still not conducted proper market research and they did not really know whether there was a real problem that affected more than themselves and their classmates. During spring they found out that Vaishnavi got awarded the Leapfrogs scholarship and they decided to use the Leapfrog scholarship together as a team.
Without the scholarship we probably would have settled with what we knew from our school project but being awarded Leapfrogs made it possible for us to conduct market research which validated the problem

Vaishnavi Srinivasan, co-founder of Cohabit
The result of the market research motivated the team to create their first pilot and test the idea. The pilot was rolled out successfully in August 2022 with 23 subscribers.
Essentially, we wanted to reach more customers but in the process of building the capacity to serve the needs of our subscribers, both when it comes to storage space, transport, and administration, we realized that we could not accommodate the needs of more than that.

Max Pangerl, co-founder of Cohabit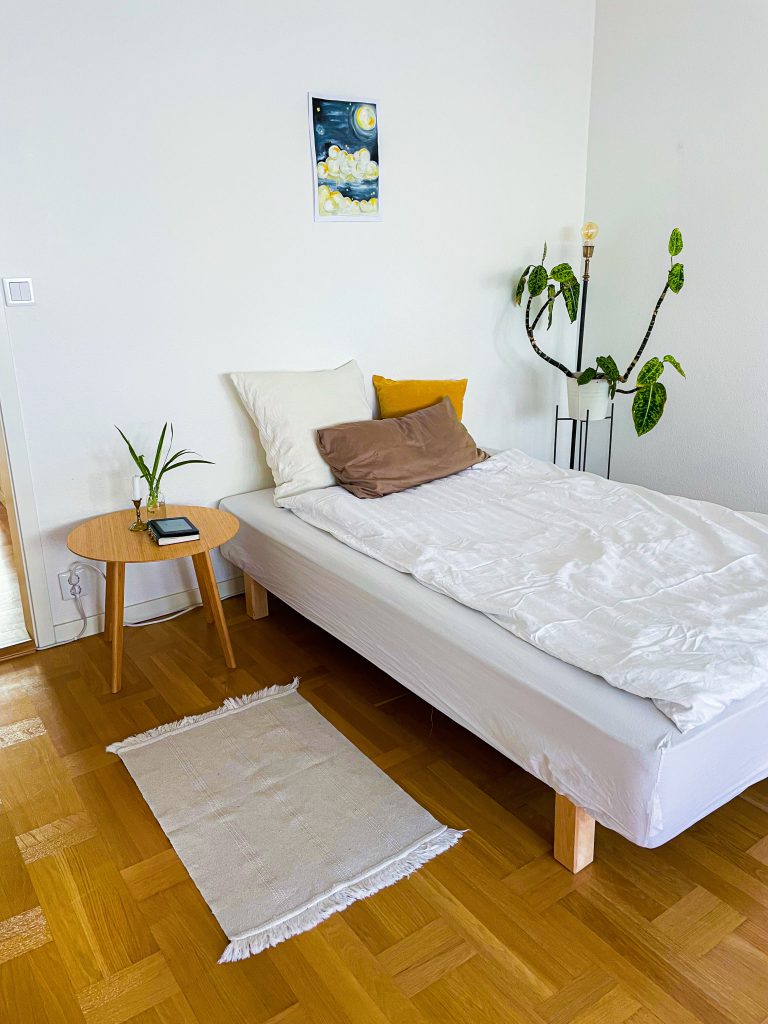 At that point, the team did not have proper storage space and Vaishnavis' apartment was filling up quickly with the secondhand furniture they collected for free from all around Skåne. The summer ended up being an intense learning journey for the team. They needed to figure out how to do their inventory, how to set up a basic warehousing system, and how to transport the furniture, while at the same time working on their marketing strategy.
However, Leapfrogs offered them a lot o support and during the summer the team got access to a networking portal for all students being awarded the scholarship and they attended the workshops provided by Leapfrogs. They also received coaching from Malmö University's innovation advisers and Drivhuset coaches. 
Through the Leapfrogs programme, we got into this network of students, innovation advisors and supporters. They referred us to new connections and people interested in the idea, from which a lot of opportunities came.

Jed Manguera, co-founder of Cohabit
One year after Vaishnavi applied for the Leapfrogs scholarship, Cohabit is in the process of rolling out its second pilot. Their goal is to collaborate with housing agencies and make a bigger pilot between January and June, so that by August 2023 they will have the capacity to meet the furniture needs of the international students coming to the south of Sweden.
Reflecting on the whole Leapfrogs experience I feel that it really made a difference for me personally. It gave me a reason to put the time and effort into it because it was not a monetary investment that I was making myself. As a student, I do not have the capacity to put that money into an idea at a stage where it is still untested. The scholarship gave us the opportunity to test the idea knowing that it is okay if it does not work. It is a huge safety net, and that's not something that a lot of entrepreneurs get.

Vaishnavi Srinivasan, co-founder of Cohabit
Do you have an idea or a project that you wish to explore further during the summer of 2023? Apply for this year's Leapfrogs scholarship!